CONFERENCE UPDATE
21 APRIL 2016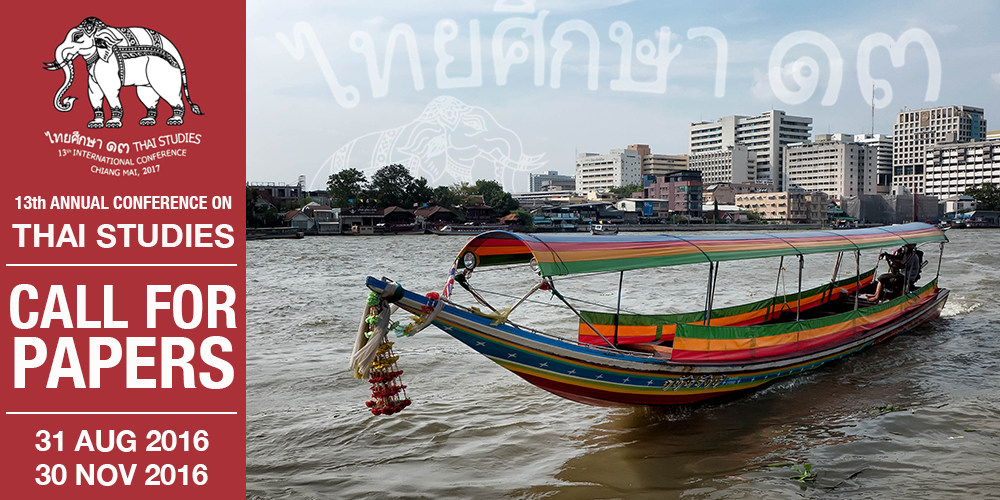 The 13th International Conference on Thai Studies aims to bring up to 600 Thai, regional, and international scholars together to present their research work and works‐in-progress. Two types of submissions are now being accepted for the 13th International Conference on Thai Studies: 1) individual abstracts and 2) panel proposals. The submission of individual abstract and panel proposal can be made online on the conference website (link will be added when available). Individual abstracts should not exceed 250 words.

The deadline for individual abstract submission is 30th November 2016 and panel proposals is 31st August 2016. Notification of acceptance of proposals will be made by 31st January 2017.
Thematic focuses of the conference include:
• Thailand and Its Connectivity in ASEAN
• Thai Economy and the Global Market
• Religion and Modernity in Thai Society
• Crisis of Democracy and Politics of Governance
• Border Studies, Border Trade, SEZs, and Border Conflicts
• Gender, Sexuality, and Social Equity
• Urbanization, Spatial Politics, and Public Space
• Lanna Studies
• History and Public Memory
• Literature, Media, and Popular Culture
• Crafts, Artisans and Cultural Heritage
• Migrants, Stateless People and Refugees
• Health and Health Care Systems
Participants may of course submit panels and papers with titles that may not exactly match these suggested themes, yet represent current or critical issues for Thailand.
The format of the conference will include
1) plenary sessions by keynote speakers
2) parallel sessions consisting of panels and groups of individual papers on various topics
3) roundtable discussion sessions
Registration for participation will begin on 1st October 2016. Registration information is available here

Publication of papers
All papers presented will be included in the E‐proceedings and will be available on the conference website. A selected number of papers will be chosen for publication in international‐level academic journals which are in partnership with the conference.
Important dates
31 August 2016 Deadline for submission of panel proposal
30 November 2016 Deadline for abstract submission
31 January 2016 Notification of acceptance
30 April 2560 Deadline for paper submission
Contact
13th International Conference on Thai Studies (13th ICTS)
Faculty of Social Sciences, Chiang Mai University
Chiang Mai, Thailand
E‐mail: icts13.cm@gmail.com or icts13@cmu.ac.th
Tel: + 66 (0)53 943595